Anthony Davies Medical Professional Corporation is focused on providing high-quality service and customer satisfaction to our customers in Estevan and surrounding areas – we will do everything we can to meet your expectations.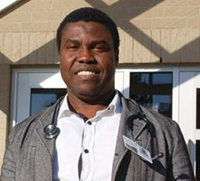 Conveniently located in Saint Joseph's Hospital, Estevan, we have a variety of offerings to choose from at our medical clinic including Walk-in clinics, Same day doctor appointment, Anaesthesia pre-operative and post-operative consult, Obstetric epidural, Epidural steroid injections for back pain, SGI Driver's Licensing medical for Class I licence, Pap test gynecology exam, Aviation physical & Immigration physical. Visit our Services page for a full list of medical services we provide from our Estevan doctor's office located in Saint Joseph's Hospital.
We're sure you'll be happy working with us. Look around our website and if you have any comments or questions, please feel free to contact us.
We hope to see you again! Check back later for new updates to our website. There's much more to come!
Please note there are no walk in clinics on Wednesday evenings until further notice
"The level of service at anthony davies medical professional corporation is fantastic. Having been a customer for years, I am consistently impressed by the professionalism of every staff member I have come in contact with. Thank you!"
Amanda
"Great experiences! Caring and extremely helpful in getting my daughter what she needed. Quick referral to a fantastic pediatrician in Regina when resolution wasn't able to be reached. Very grateful that my daughter got the help she needed quickly and thorough. Doctor is very kind!"