About Us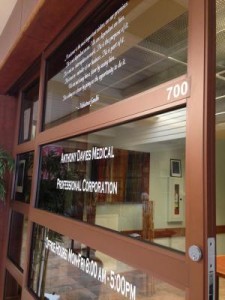 Our company is based on the belief that our customers' needs are of the utmost importance. Our entire team is committed to meeting those needs. As a result, a high percentage of our business is from repeat customers and referrals.
We would welcome the opportunity to earn your trust and deliver you the best service in the industry.
Location
38 Bridgeport Road East
Waterloo
ON N2J 2J5
Hours
Please note there are no walk in clinics on Wednesday evenings until further notice
Mon – Fri: 9AM – 5PM
Wednesday walk-in clinic 6/6:30PM – 9/9:30PM
Sat: Closed
Sun: Closed
Mission Statement
We, at Anthony Davies Medicine Professional Corporation, are focused on our customers, clients and patients, to be responsive to their needs and provide excellent health service. We are building healthy communities in the region one person at a time!
Statement of Values
Integrity – our word is our bond, ethics and morally upright
Respect – in what we say or do to you, share humanity and treat you as a unique individual
Compassion – equity and justice, so you feel listened to and have us advocate for you
Service – realize greatness and joy in serving you, giving you nothing but the best quality assurance outcome in the industry.
Vision Statement
Anthony Davies Medical Professional Corporation will be a local company with a global reach. Conversely, we will think globally and act locally.